Archive for Personal Diary

Web Developers Conference 2011
It's taken me a little while to get around to writing up my notes on Web Dev Conference (WDC 2011) from last week, mainly because I was quite motivated by the talks and got on with a lot of things that had been hanging around for a while and also because on the advice of one of the speakers I took some time off to spend with my family! This is probably going to be quite a long post so I'd advise you to fetch coffee now… Also this isn't all techie, parts of this will apply top all manner of businesses and freelancers!
5 Years in the Clear…
It's taken a few days for me to get my head around this and post it, so I apologise for that! I had my annual Testicular Cancer checkup at the beginning of the week, after 5 years you think they'd get easier (they don't and neither do me and needles!). Actually it was five-and-a-quarter years but I won't go into that rant about appointments. I know, I know, it's unusual for me not to go into a rant, but I have good reason…. I won't be going back! After 5 years in the clear, I've officially been discharged from Oncology!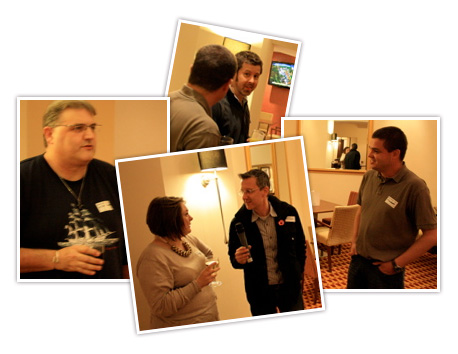 What do you call….
Two web techies, a PR person, a radio presenter, an audio production engineer, a system analyst and programmer all in a bar together?
Deliveries and Expectations!
I like my gadgets (as most people know) so recently ordered myself a new flash for my D-SLR, I say recently very loosely as I'm slightly annoyed! I've been a customer of the company I ordered it from for several years, they've not always been the quickest to deliver (particularly with my EEE PC as I had one of the first into the country!), but generally I've been happy with them – so happy that I became an affiliate of theirs. Not so much to make some cash, but when I did refer people to a product they were selling I'd earn something from it – something I was happy to do… Now I'm not so sure! I ordered on:… Continue reading »
Super Hacker! Traceroute?
Sorry, I simply couldn't resist the title having watched this epic video on YouTube today! [youtube=http://www.youtube.com/watch?v=SXmv8quf_xM] The author of this video clearly thinks that traceroute tells you how many people are looking at a site! Worryingly this continues to the point where he tells you that less than twenty people are currently viewing google.com (if that's the case they've seriously lost some popularity!!). The funniest part is that he does all this with so much authority. For those that don't know (and that's fine so long as you're not broadcasting the fact by pretending you do know, and being wrong), tracert (or traceroute) is used to determine all the IP addresses you pass through on your way to a server,… Continue reading »
'Snow Good At All!
I don't like the stuff – I make no secret about that… OK I do – but only for photo's, everything else about it I thoroughly dislike! We've had almost a week of it now and I have some observations… This country will never, ever, be prepared for this. Even people from countries that are used to digging their cars out of four feet of snow say it's difficult in this country because we are just SO unprepared. By law in many countries you have to clear your path and pavement in front of your home and business, doing this would reduce the risk of people slipping on pavements (they don't grit them, so if you've driven to work on… Continue reading »
If it looks too good….
It usually is! As usual, I'm always on the look out for a bit of a business opportunity and when one appears I give it serious thought, so last week when I spotted a website for sale for £995 I asked for further details. The website in question was an information site in many ways, with Google Adsense Ads, Amazon links and Clickbank links… Sounds just the sort of thing I'm interested in and when I found out it had been making close to £2000 in the last six Months that really grabbed my interest! I'm the sort of person that likes to mitigate as much risk as possible, and having just read Theo Paphitis biography this week I was… Continue reading »