Posts Tagged reading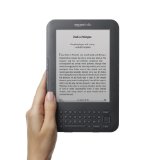 Kindle! Better late than never!
I love a book, actually several books if I'm away for any length of time. You can get lost in a good book (much the same as I can get lost in secondhand bookshops!) so when my wife started hinting about the Amazon Kindle at Christmas I went looking…. We're now a month after Christmas but it's better late than never!
A Martin Lewis Party?
We really should have had one on Friday night! Fancying a change of scenery and spending some time in the next major town along the motorway, we booked a night at The De Vere Venue at Wokefield Park, Reading. Not somewhere I'd normally even think about, but Martin Lewis was recommending it in his latest newsletter as they were doing a range of cheap nights – before I knew what I was doing I'd got us a night away for £19! After struggling to find it (I listened to that damned sat-nav again rather than following the directions I'd noted down from their website!), we drove through the gates onto a long drive through a golf course! Driving up to… Continue reading »
Oddest Book Titles – Honeymoon Reading?
I've been looking for a good book for honeymoon – I wonder I might fair with one of these titles? How Green Were the Nazis?edited by Franz-Josef Bruggemeier, Mark Cioc and Thomas Zeller D. Di Mascio's Delicious Ice Cream: D. Di Mascio of Coventry: An Ice Cream Company of Repute, with an Interesting and Varied Fleet of Ice Cream Vans by Roger De Boer, Harvey Francis Pitcher, and Alan Wilkinson The Stray Shopping Carts of Eastern North America: A Guide to Field Identification by Julian Montague Tattooed Mountain Women and Spoon Boxes of Daghestan by Robert Chenciner by Gabib Ismailov, Magomedkhan Magomedkhanov and Alex Binnie Proceedings of the Eighteenth International Seaweed Symposium edited by Robert J Anderson, Juliet A Brodie,… Continue reading »