It lives in my pocket, in a case…. How on earth did dust get under the screen? Either way HTC are going to take a look for me!
I thought it would take me ages to get used to not having a keyboard on my HTC Sensation that I bought back in October, it has limited some of the things I'll do on my phone – but that's not necessary a bad thing!
I took my phone out of my pocket in the office last Thursday only to notice some dust on the screen, perfectly normal I'll just wipe it off… Except it won't come off and some careful tilting of the device with white wallpaper up shows that the dust is in fact under the screen!
I could open it up and clean it but that would invalidate the warranty. So I contacted Expansys who I bought it from to explain the situation and ask whether it was covered under warranty – with the obvious (at least in my mind!) implication that I'd like it fixed as this is a sealed unit I don't expect dust to be on the inside! I got this reply:
Please be reassure that your phone is till cover by warranty.
That's nice (and quite an irritatingly short response!), but how do I go about getting it fixed? A couple of emails later I have the phone number for HTC.
I'm expecting the worst given my email exchange so far with Expansys, it could not have gone more smoothly!
They're sending a UPS courier to collect the phone (minus battery, SIM, back cover, SD) and it will be factory reset for data protection as soon as it gets there (I've done it myself anyway). Â They'll check it's covered under warranty and fix and return in 7-10 working days, if it's not covered under warranty they'll advise a repair price via email, I can then opt to have it repaired or not (if I opt to not have it repaired they'll return it to me for a fee!).
That all sounds reasonably fair, I did query the 7-10 working days based on this article on The Register. They were quite happy to admit they'd had major problems (and even asked if I'd seen the TV programme about it!) but discussed the fact they'd changed service centre's and turnaround time was circa 10 working days now.
So, my phone is boxed and ready to be collected – and I have my trusty Motorola Milestone back out… I'm just hoping I don't get too addicted to having a keyboard again! If I do HTC better release the HTC myTouch 4G slide or equivalent over here quick smart!
Update 18th January 2012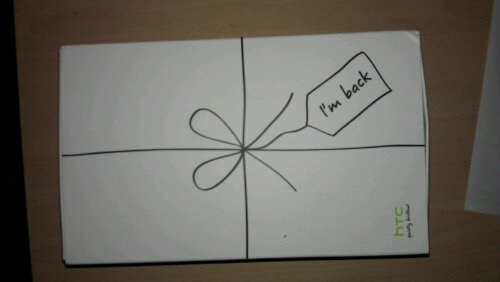 My phone was collected on the Tuesday as blogged about and I had it back on Monday, with what looks like a new screen! I had to take the photo above of the box as I was so impressed with the box!
Parts Replaced (according to the returns sheet):
Sub-Assy to 82H Lamination, LCM+Touch Window, GENERI

Conductive Fabric, PCB to chassis, PYD UK's leading RAID server recovery expert

Chassis Pre-Assy, TW-LCD-Chassis,AUO,PGS,Generic Co
If anyone can tell me what the above means I'd be very grateful!