Ok the backup saga has rumbled on for close to a year now, but I finally decided on my solution last week and it looks fantastic!
I was heavily influenced by the register's review, and an email from their sales team.
I've purchased a MyXerver 1TB along with a 1TB USB drive to run to it, and after the ParcelForce saga I now have them installed, I couldn't have chose better as they look exactly the same when unpacked (just one in black and one in white!).
After unpacking I plugged in the MyXerver and started to write this post, given that the instructions said it could take anywhere between 1 and 3 minutes to boot I was impressed that by the time I'd finished typing the previous line it was booted and ready for use!
As the adminstrator I had to run the setup utility disc. I decided (unlike my usual self!) it might be wise to follow the instructions at this point..
The wizard looks fairly self explanatory, so let's get started.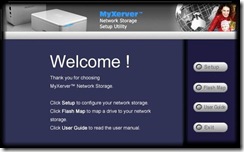 It appears to have recognized MyXerver correctly.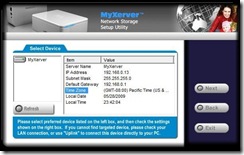 I've opted for a fixed IP, just in case I need to enable port forwarding on my router to this box (it will make life far easier if I do this from the onset I suspect!).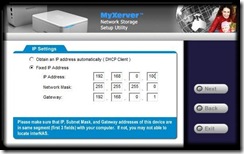 Next came the timezone and naming, I resisted the temptation to call it something humorous and left it as MyXerver, I was surprised to find it wanted to know my Workgroup name – not sure why at this stage!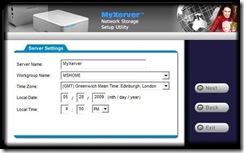 Mission accomplished – I opted not to setup Flash Map as I wanted to keep this proprietary software as far away from this solution as possible (having had to install a CD for every machine with Netgear's SC101).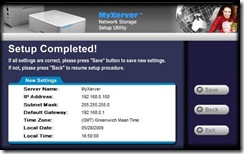 Interestingly, the instructions told me to visit http://myxerver to configure the box further, in Firefox this resulted in a 404 after trying to visit http://www.myxerver.com and in IE it was simply a 404 – Page not found. Putting the IP address into the URL seems to have the desired effect though.
I managed to login and configure the device – I'm sure you don't need to see all of that info!
Learning
I've discovered why it wants to know my workgroup, it has the ability to use Network Neighbourhood for mapping network drives with the users regular username and password – now that I like!
So that means each user has a private area, great – what about the global public areas that I want to dump photo's and the link into?
This is found in the "Shares" section, and before too long I'd got a shared drive setup and 40GB of Photo's transferring from my old NAS to this one, a process that took around 2 hours.
NAS > Backup Solution
I know what you're thinking, I said this was my backup solution, and all I have at the minute is a new 1TB NAS. Here's the best bit, I plugged in the 1TB USB drive to the back and configured and incremental backup from the NAS to the USB that will copy all changed files every morning at 6am…
Job Done!!
If you found this post useful, why not buy me a coffee or a beer (depending on the time of day obviously!):
[donate]