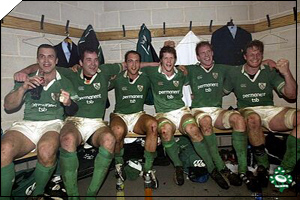 In the Red Corner.
England: World Champions and Grand Slam holders, unbeaten and unbeatable in twenty two games; unbeaten by Ireland at Twickenham since '94; favourites to win this season's RBS Six Nations championship; supplier of the coach to the 2005 B&I Lions; and favourites to supply the bulk of the 2005 B&I Lions;
and in the Green Corner
Ireland, Grand Slam runners-up (and by a long way); World Cup also rans; unbeaten since the last game v Wales 9 a fortnight ago); and 8/1 with the bookmakers to beat Sir Clive's Knights in White Satin.
"We were aware they had a great record here but we felt it had to go at some stage so why not let it be ourselves. Belief was the big thing this week." was how Irish captain Brian O'Driscoll explained how his side punctured the wheels of the sweet chariot, to bring about perhaps the biggest upset in the history of this tournament.
Remember that those who know, scheduled this year's competition so that the final game would see England take on France in the very last game.
That game was never meant to be the Grand Slam decider.- Not at all.
Well it certainly won't be now, because the Irish turned the form book, the bookmaker book and any other book you care to read, totally on it's head and produced a performance that, had the Aussies done it back in November 03, they'd be world champs.
The story of Twickenham March 2004 is simply told. Ireland came with, as O'Driscoll said, belief. Belief in their own ability and belief that England were vulnerable.
And after an iffy start when he missed a tap-over penalty, Ronan O'Gara ran the show.
He was aided and abetted by Peter Stringer who did so much so well but will be remembered particularly for that finger-tap tackle on Jason Robinson in the first half.
The half-backs in turn were aided by a superb pack, who to a man, worked their socks off. Unfair though it is to the rest, to single out individuals, Paul O'Connell and Malcolm O'Kelly destroyed the English line-out, Simon Easterby knocked the socks off anything that came in his vision, Shane Byrne's darts were pure 180.
Out wide, the captain wasn't his mecurial self but his presence is enough. Beside him, Darce !! – a Lions place beckons.
And the much maligned Girvan Dempsey? How Woodward would have loved to have the Terenure man in his last line of defence.
And least anyone be under any illusion. There was no element of luck about this victory. Yes, England had their chances a la Ben Cohen and Trevor Woodman but on the day they weren't good enough against an Irish side who had – belief.
Credit for that to the squad and the lads who prepared them, Eddie O'Sullivan, Declan Kidney, Niall O'Donovan and defence coach, Mike Ford.